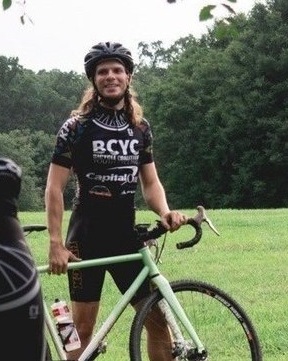 Tyler Knapp
Camp Director
18 years at Camp
Tribe: Naumkeag
"I started going to Camp in 1995 and then continued to work there until 2011. I can't believe this will be my 18th summer in the woods of Pentucket Pond.
In the camp off-season I work as a bicycle mechanic and a coach in Philadelphia for the Bicycle Coalition Youth Cycling program. I coach both road and cyclocross racing- basically I hang out with Philly high schoolers and we practice going fast on bikes together!
In my interim years before returning to camp, I lived in Western Massachusetts where I did a whole array of things including touring up and down the east coast in a band, teaching kindergarten, organizing a bike racing team and more. I then moved to Philadelphia in 2016. In my spare time I love to play music, surf, and ride and race bicycles.
I'm greatly looking forward to our 2019 Camp Season, and can't wait to meet the newest cohort of Camp Leslie community members, campers, and their families!"
Indiana Messier Assistant Camp Director
14 Years at Camp
Tribe: Naumkeag
"I'm from Worcester originally, but spend most of my time on Long Island at Hofstra University. I'm a senior anthropology major and I love to help out my community. When I'm not in class, I spend my time reading, painting, and playing video games. I enjoy traveling, and absolutely love hiking and the outdoors. I'm a proud Naumkeag who can't get enough of activities like capture the flag, or the dance. I love so much about camp, but what I love most is seeing the community built by our community. Campers, CITs, and counselors alike all build a very special place that will always be a home to whoever attends camp, including me. Can't wait for my first year as Assistant Director this summer, and to see what amazing memories are built in the 2019 season."
Sarinna Kissell Program Coordinator
13 Years at Camp
Tribe: Naumkeag
"I grew up in Georgetown and now attend Northern Essex Community College. My hobbies include arts and crafts, embroidery, and making collages. I come to camp because it is like being home with family. What I love most about camp are the people that each bring something special to this place. I am excited for another year of silliness and learning and everything from singing during meals and ball-field fires to making slime and swimming to the center of the pond. All my best memories are from some sort of camp related event and I am so excited to make more this year!"
Jack Norton Waterfront Director
10 Years at Camp
Tribe: Naumkeag
"I'm originally from Byfield and started and started coming to camp when I was 10 years old. I am going to be a senior at Miami University where I study political science and plan to go to law school after graduating. I am looking forward to taking on a new role as Waterfront Director after being in the Boys Area for five years and a lifeguard for four years. I keep coming back to camp because it is a place where everyone can be themselves and make new friends in a judgement-free zone. "